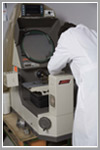 Our quality control procedure ensures that the machined components are made from the specified material, meet the dimensional requirements as per drawing and are fin preocessed, if required, by an approved source.
As per the Q.C. procedures a first-off inspection, an in-process inspection and a final inspection are mandatory requirements at FC Precision.
Mill test reports of C of C for material, C of C for processing and Dimensional inspection reports will be included in the shipping documents.
Our inspection equipment is calibrated regularly, and includes:
Surface Plate
High-gage
Dial bore gages
Thread & Pin Gages
...and more