Some examples of our work
We like to show what we do by highlighting some examples of our work. Below are some samples of some of our latest projects.
Contact us to know more
!

Extruded Netting
The aerospace industry has very high standards. FC Precision was selected to manufacture dies to be used in machinery that would extrude plastic into netting to be used in airplanes. .


Automotive
Manny parts for the automotive industry were produced at FC Precision, based on blueprints provided and discussed exaustively with the client. The result was a problem-free, perfect fit piece that was to be used by an OEM's second-tier supplier.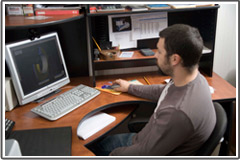 At FC Precision, projects start by understanding your needs
To us, the most important step is understanding your needs, either by reviewing your drawing and specs of by providing customized drawings to you. We make sure both parts are in agreement before starting any job.


Industry-specific needs? No problem!
FC Precision knows the particularities of each industry, being a supplier to aerospace, automotive, nuclear, and many other industries. Let our experience work for you.
We want to hear from you
Contact us to discuss your needs. Come visit us at our shop to see our equipment and be assured of what we are capable of offering. Just click the image below and contact us today.